We all know how competitive the restaurant industry is nowadays.
Today's customer is spoiled for choice – and margins are increasingly getting tighter and tighter for restaurateurs the world over.
Therefore, every competitive advantage is a crucial component of success. That includes excellent service, top-notch dining experiences, and an impressive ambience.
You can serve the finest food in the world. But if your actual dining establishment isn't aesthetically pleasing and designed for maximum function, your customers won't return. And if your customers had subpar, mediocre dining experiences, your restaurant won't achieve any valuable recommendations or reviews.
And that's something you want to avoid like the plague.
Granted, the service and the food are part and parcel of what makes a dining experience extraordinary. But what's more often overlooked is the vital role a restaurant's overall design and layout play in its success.
As we enter 2021, restaurateurs might find themselves thinking about how to fit out their restaurants with interior design fitoutfeatures that will give their guests the best possible dining experience.
LKD Fitouts are proud to present some of the world's best restaurant fitouts – so that you can get some inspiration from the best the world has to offer.
Sketch (London, England)
Sketch in London's ritzy Mayfair is the epitome of eccentricity. An intriguing hub of four separate restaurants, each with their own spectacularly unique design, Sketch conjures a fantastical Alice-in-Wonderland ambiance.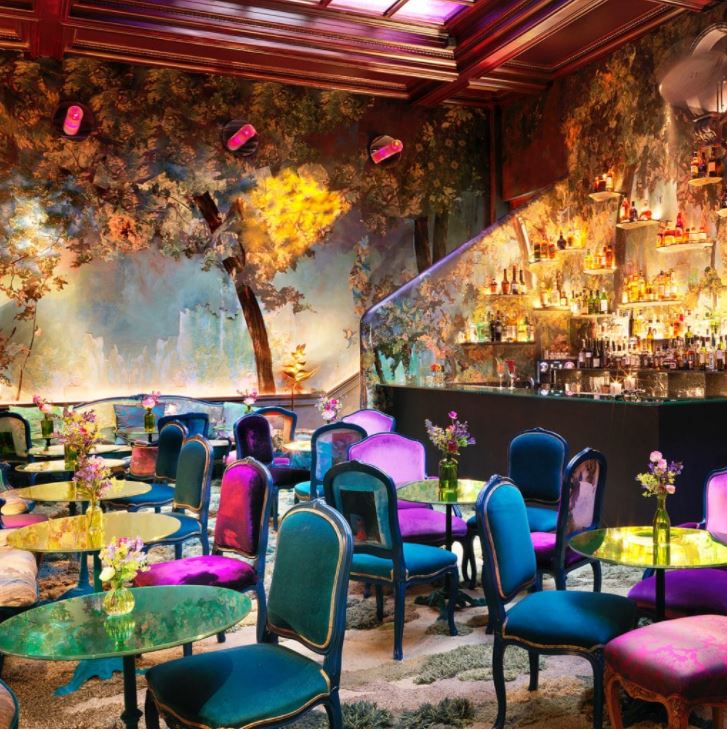 The Glade boasts the ultimate 'wow' factor. Patrons are treated to culinary delights in a magnificently colourful enchanted forest. With trees adorning the walls, shiny tables decked with pretty posies, sumptuous chairs swathed in vibrant velvet and touches of gold throughout, the restaurant is simply breathtaking.
A quirky patisserie, restaurant and bar, the Parlour features elegant Louis XV chairs with legs encased in white ballet shoes and a multi-coloured statement ceiling.
The Gallery is a cosy cocoon of candy pink velvet. The striking rose gold bar, zig-zag flooring and 200 artworks by Turner Prize winner David Shringley bring a sense of fun to this remarkable venue.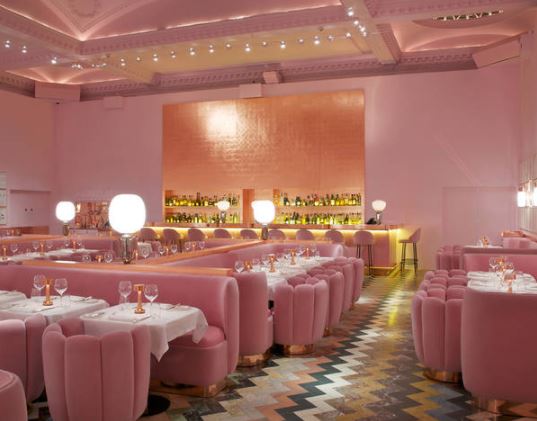 The two-Michelin-star Lecture Room resembles a vivid sunset, with hues of red, orange and yellow gracing the walls, ceiling, floors and furnishings.
And the journey doesn't end there; even the bathrooms are a novelty. Dubbed London's most instagrammable loos, the toilets are located in futuristic white space pods which pipe out strange music and audio clips, transporting you to a distant universe.
Sketch, 9 Conduit St, Mayfair, London.
Le Pain Francais (Gothenburg, Sweden)
Designed by Stylt Trampoli, Le Pain Francais is a whimsical delight, boasting four different levels, each portraying its own unique theme to the max.
Stylt Trampoli have combined colour, texture and lighting with a good dose of the eccentric to create a magical and glamorous, yet friendly space.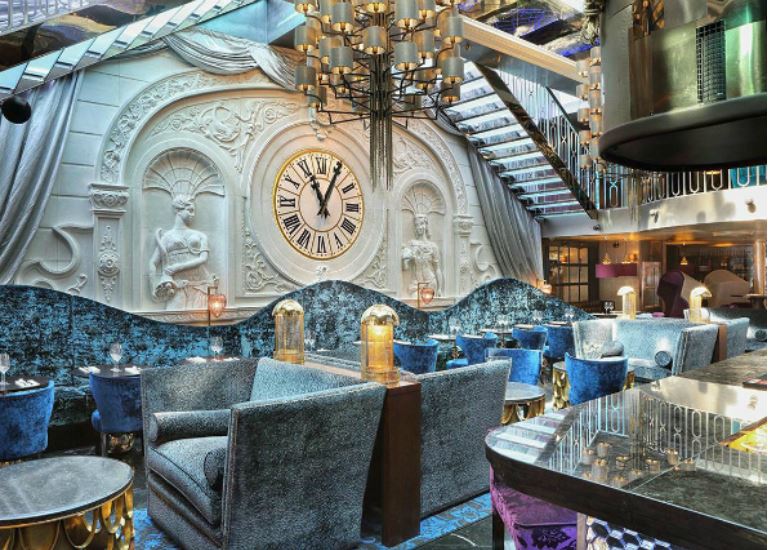 From a bread workshop where you can see the chefs at work, to elegant tea rooms, an orangery and a restaurant reminiscent of La Belle Epoque, this restaurant resembles an eclectic museum.
Le Pain Francais, Kungsportsavenyen 7, 411 36 Gothenburg, Sweden.
Café de la Paix (Paris, France)
Café de la Paix is a world-famous eatery a stone's throw from the iconic Palais Garnier Opera House in central Paris.
Founded in 1862, the café-restaurant has hosted an impressive list of patrons, from Charles de Gaulle, to Guy de Maupassant, to Oscar Wilde, Ernest Hemingway and dozens more.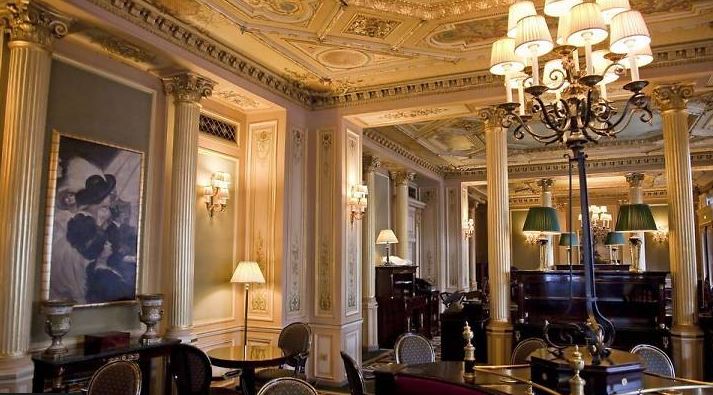 With its ornate gilding, listed frescoes and decorative columns, Café de la Paix was awarded a Grand Heritage Prize in 2000.
Its' Second Empire elegance is complemented by elegant furniture, cosy lamps and the use of mirrors to reflect the warm glow.
Cafe de la Paix, 5 Place de l'Opéra, Paris.
Perla (San Juan, Puerto Rico)
Refreshingly unique, Perla is – quite simply – a giant floating shell.
Designed by architect Mario Ferrer to create the illusion of dining inside a conch shell, Perla maximises the 'sea' theme to the nth degree.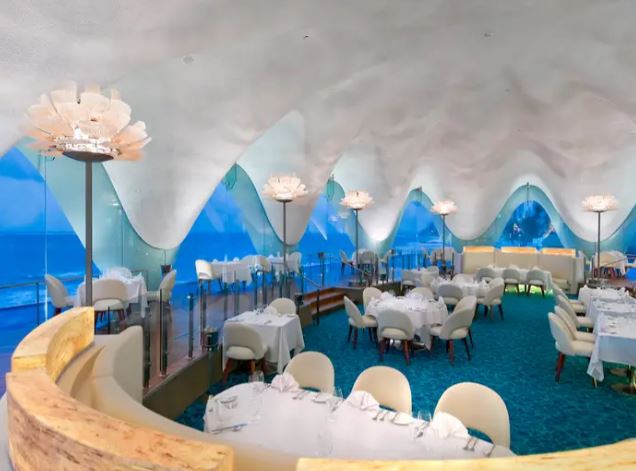 Perched above an infinity pool and with expansive views of the Caribbean Sea, the reflection of the water dances across the ceilings. This is complemented by the ripple-effect sea-blue flooring, oyster-hued Murano glass lamps and shell-style banquettes.
Perla, 1077 Ashford Avenue, San Juan, Puerto Rico.
Eleven Madison Park (New York, NY)
We can't write an article about the best restaurant fitouts in the world without mentioning the famed New York institution and reigning #1 selection of the World's Best 50 Restaurants, Eleven Madison Park.
Eleven Madison Park has recently reopened with the most luxurious and opulent fixtures it has ever boasted, since operating for over two decades now.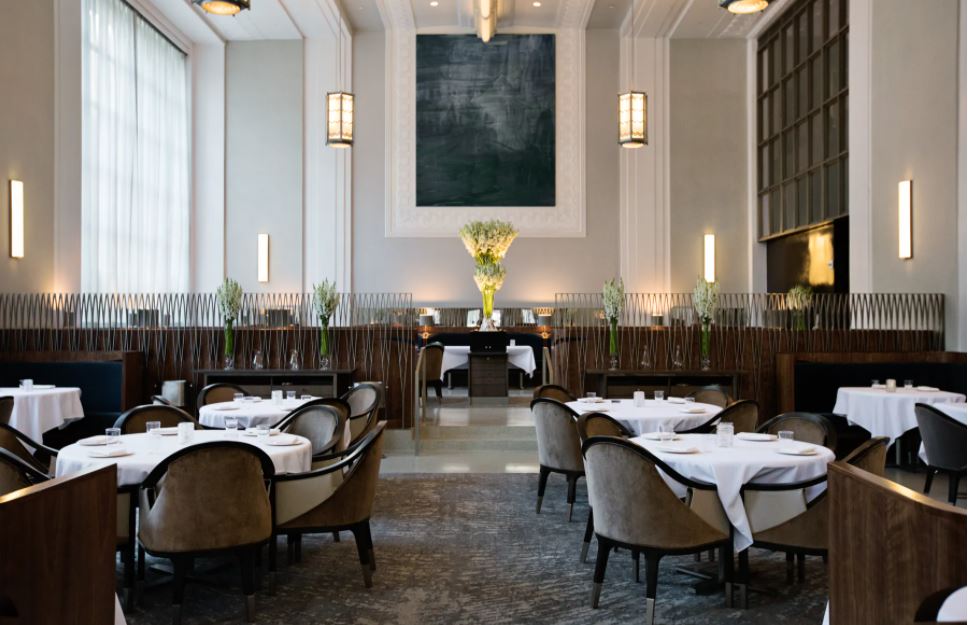 Allied Works Architecture was responsible for revealing a brighter, airier Eleven Madison Park, complementing the existing building's high ceilings and large windows for maximum effect. Pair it with some clever off-white, blue, and chrome accents, and you'll feel like you're in the finest exponent of contemporary cuisine in the world. Oh, wait, you already are. This is a dining experience that is as good as it gets.
Eleven Madison Park, 11 Madison Ave, New York.
Kisumé (Melbourne, Australia)
Kisumé is the latest three-storey Japanese restaurant from the Lucas Group right smack dab in Melbourne's Central Business District.
Restaurant director Chris Lucas spared no expense to make Kisumé challenge the definition of higher-end Japanese dining. That's why he hired Eleven Madison Park alumnus and resident sommelier Jonathan Ross, as well as South Korean sushi master Moon Kyung Soo.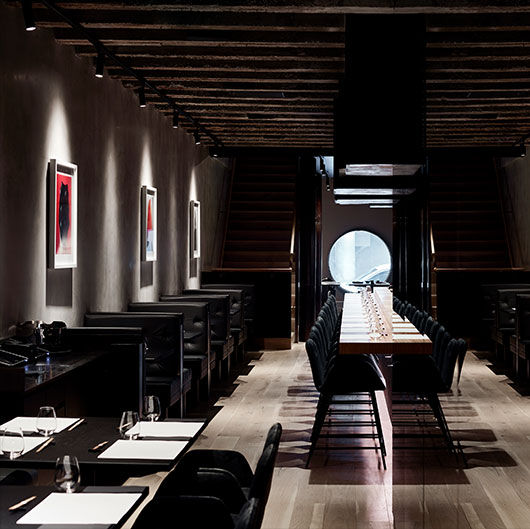 That same dedication to quality and attention to detail applies to the restaurant's fitout. From the lighting fixtures to the furniture, going so far as staff uniforms designed by Melbourne fashion label Alpha60. Black and grey accents complement the burnished golden table corners and contribute to an understated yet elegant and sophisticated ambience.
It's said that no Japanese restaurant is as ambitious as Kisumé, and we're inclined to believe it.
Kisumé, 175 Flinders Lane, Melbourne.
Kul (Copenhagen, Denmark)
Kul stands for "charcoal" in the native parlance, so it's only right and proper that this grill nestled in Vesterbro is festooned with mercurial charcoal grey motifs.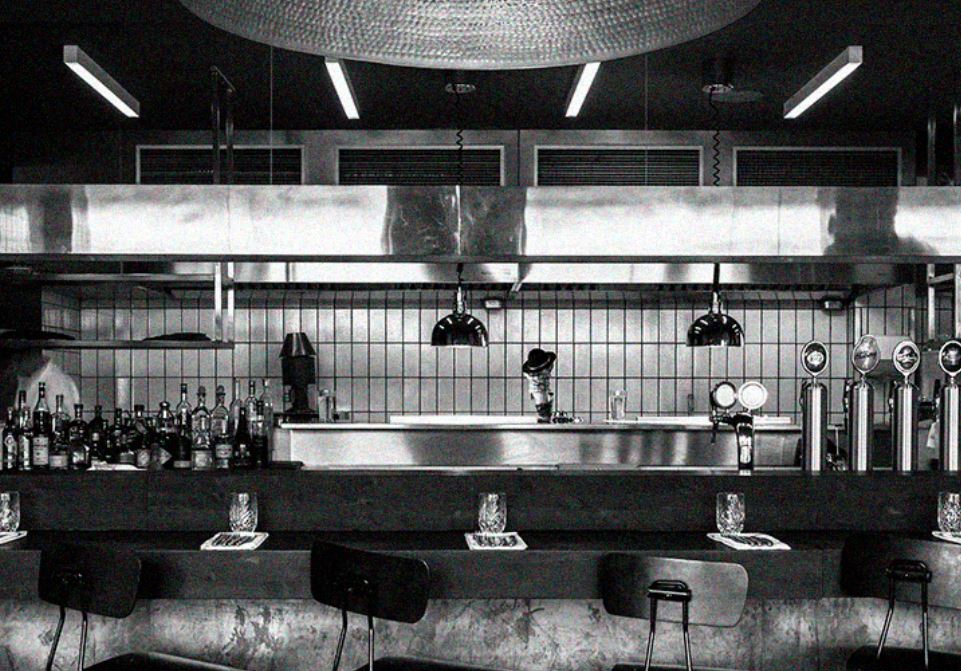 Kul's fitout was installed by renowned Danish design house Space Copenhagen, led by the same team that designed Noma apart from several mainstays in the Copenhagen restaurant and hospitality circuit.
Kul features luscious matte-finished walls, paired up with industrial lighting and completed by its original white tiling to create the appropriate milieu for a top-shelf take on grilling.
Kul, Høkerboderne 16B, 20, 1712 København, Denmark.
Vue de Monde (Melbourne, Australia)
It's hard to beat the view from the 55th storey of the Rialto building with the Melbourne cityscape glistening before you.
And if the view from the top doesn't arrest you, then what's on the menu most certainly will. Vue de Monde is a venerable fine dining institution with exceptional service and even better wine.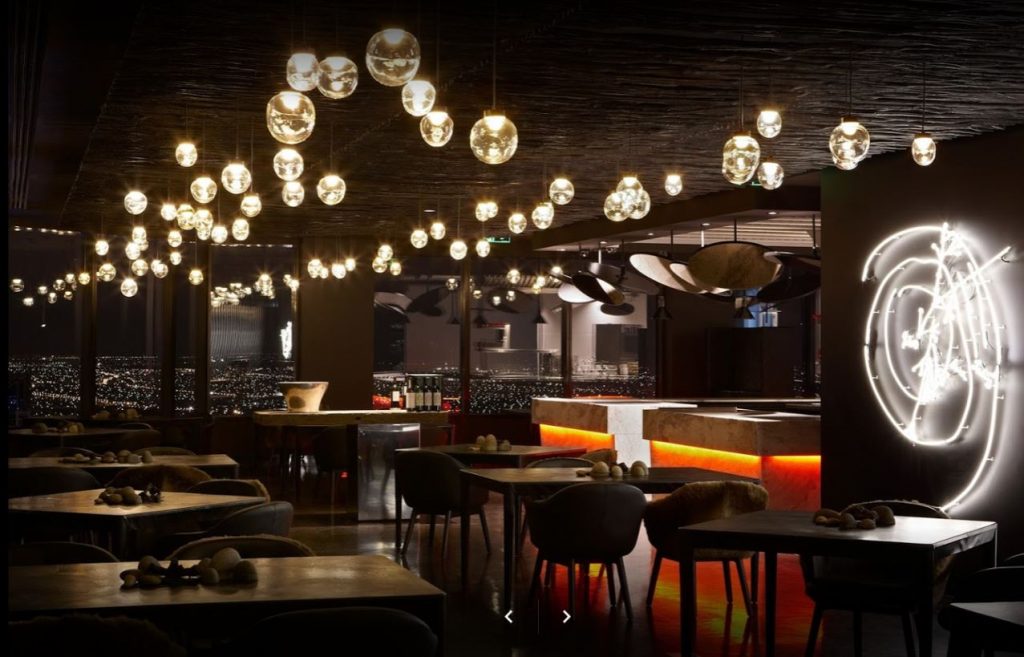 The experience is completed with one of Melbourne's best-known fitouts, featuring leather and fur-lined furniture and fixtures for added panache and drama, cementing its place as one of Melbourne's best places to dine in, day or night.
Vue de Monde, Rialto Towers, 525 Collins Street, Melbourne.
Matilda 159 Domain (Melbourne, Australia)
We can't get enough of the vibrant Melbourne scene. And Matilda 159 is undoubtedly one of its finest exponents. Matilda 159 Domain is the crown jewel of renowned chef Scott Pickett's vast portfolio, and the fitout is deserving of such a reputation.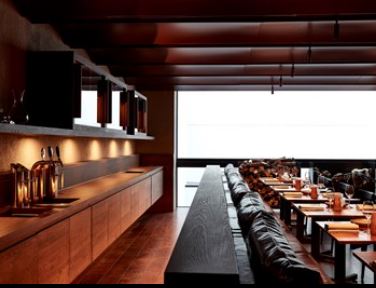 Situated on the ground floor of the luxurious, brand-spanking-new United Places boutique hotel, Matilda 159 Domain boasts an ochre ceiling with stately, artisanal blackwood tables, finished off with lush, plush, and extremely comfy stuffed leather banquettes to go with their grills and sizzles.
Matilda 159 Domain, 159 Domain Road, South Yarra, Melbourne.
Llama (Copenhagen, Denmark)
Who says Copenhagen has to be sombre and monochrome? Head over to Llama for a dose of colour in your palate and your surroundings.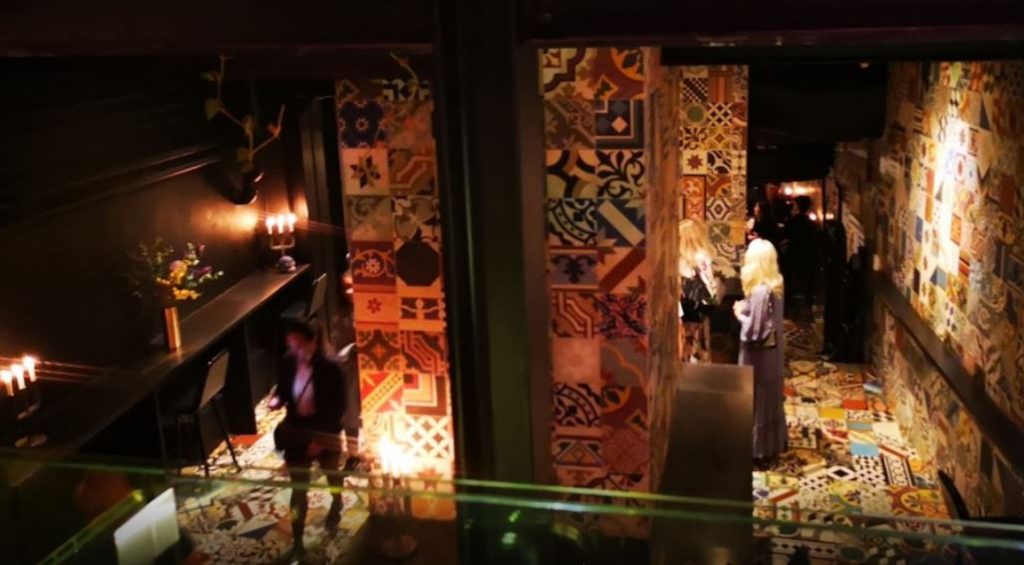 Featuring a pleasantly diverse basement space decked out in eclectic ceramic tiles from top to bottom and complemented by subtle yet classy black furniture, Llama lights up the stern Copenhagen city centre.
Lama, Lille Kongensgade 14, 1074 København, Denmark.
Avli by Tashas (Dubai, United Arab Emirates)
Talk about luxury. Avli by Tashas takes that to a whole new level with restaurant fixtures that feature contemporary Mediterranean with a distinctly Greek flavour and predilection for minimalism. You'll feel like you're dining within the walls of an ancient Greek temple that comes alive at night.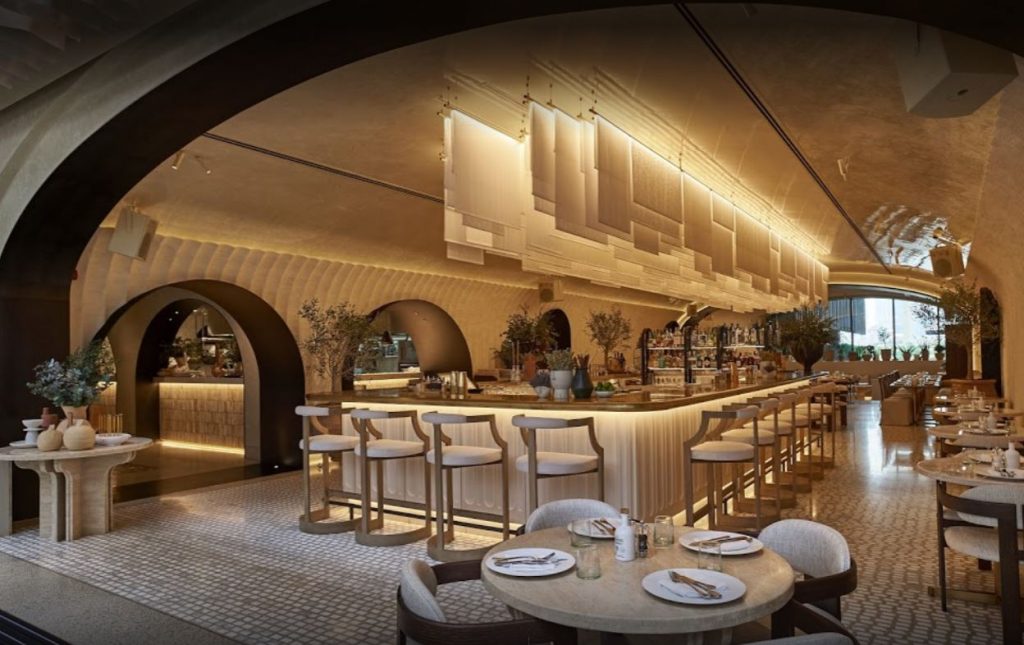 The impeccable work put in by BW Studio saw the restaurant win the Interior Fitout Project of the Year Award at the 2019 Annual Commercial Interior Design Awards and is sure to satisfy even the most exacting diner.
Avli by Tashas, Gate Village 9, Dubai International Finance Centre, Dubai.
Are you feeling inspired? Ready to get your Perth restaurant fitout underway? Get in touch with LKD Fitouts today for a no-strings-attached consultation.