Remodelling your office can do wonders for employee productivity and efficiency. While a small office space can present certain challenges, there are ways around this. We've put together some of our top small office renovation ideas to make the most out of your office space.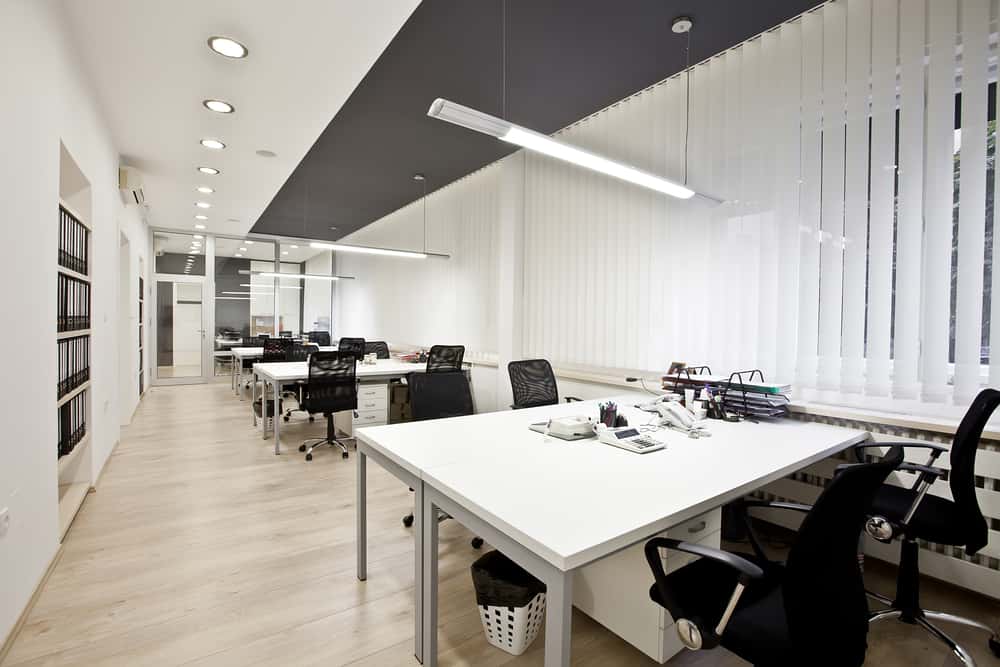 Aesthetics play an integral role in the dynamics of a working office. And that's exactly why companies embark on office renovations from time to time.
Studies have shown that remodelling an office has been demonstrated to increase employee satisfaction and productivity in several ways. For example, a light, bright, attractive space promotes a healthier working environment by using ergonomics in design and function. Changing the layout can provide better use of space and create a more productive, efficient workforce.
Over the long-run, renovating an office can also help you to save on energy costs. Using the right light fixtures and maximizing the use of light can reduce your carbon footprint, whilst creating a more pleasant working environment.
That said, before you choose to take the next step with your small office renovation job, read on – we've got just the most important tips to get the most out of your small office makeover.
1: Function First!
When it comes to small office renovation ideas, function comes first!
Think objectively: what is the best possible way to maximize your current space? Ask yourself these key questions:
Will you opt for a hotdesking arrangement? Will employees be free to roam from one place to another?
Do individual desks, a co-working setup, or private areas work best for your business? Or is the best solution a mixture of styles?
How will you organize the workspace? By department or by activity?
What environment do you want to promote? Do you want a collaborative, visible, and open atmosphere, or a privacy and individuality-focused one?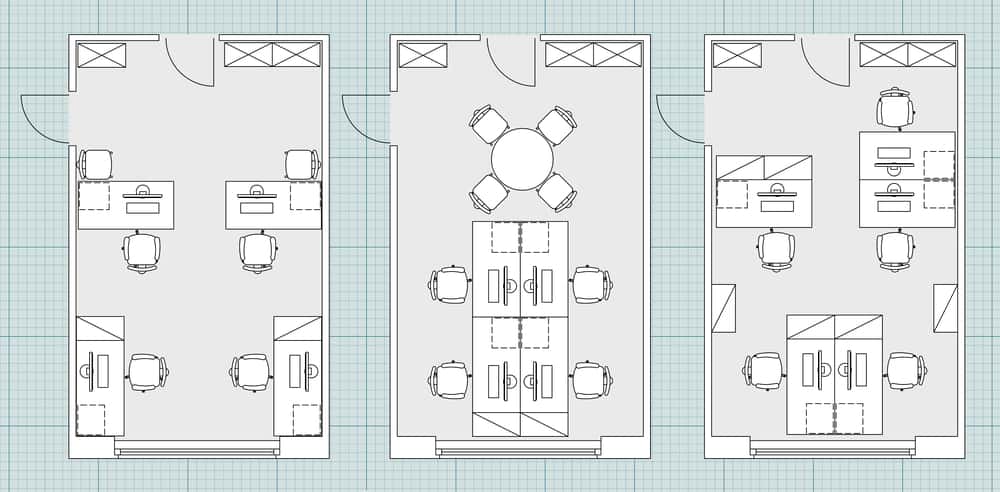 Create a floorplan which is going to accommodate the various functions required in your office.
2: Select Understated Furniture Pieces
It's not a good idea to go overboard when choosing furniture for a smaller workplace. Sure, stately desks and massive sofas might be more to your taste, but you're going to end up with an office that looks cramped and restricts movement.
Channel your inner Marie Kondo. Think of minimalist-inspired furniture that puts a priority on comfort and functionality, but with simplicity in form. Smaller furniture helps to open up a space and makes it feel more breathable and accessible.
3: Keep an Eye on the Future
Undertaking a renovation is important because it's an opportunity for you to think about more than just what your current workspace needs are.
Create a flexible floor plan that will accommodate future growth and other workplace changes.
4: Maximise the Light
The easiest way to open up a small space and make it look and feel bigger than it actually is, is by maximizing natural light. If you're in the process of renovating a smaller office space, make sure natural light isn't being blocked by furniture or window dressings. Redesigning the layout of your office can have a huge impact on the amount of natural light within the space.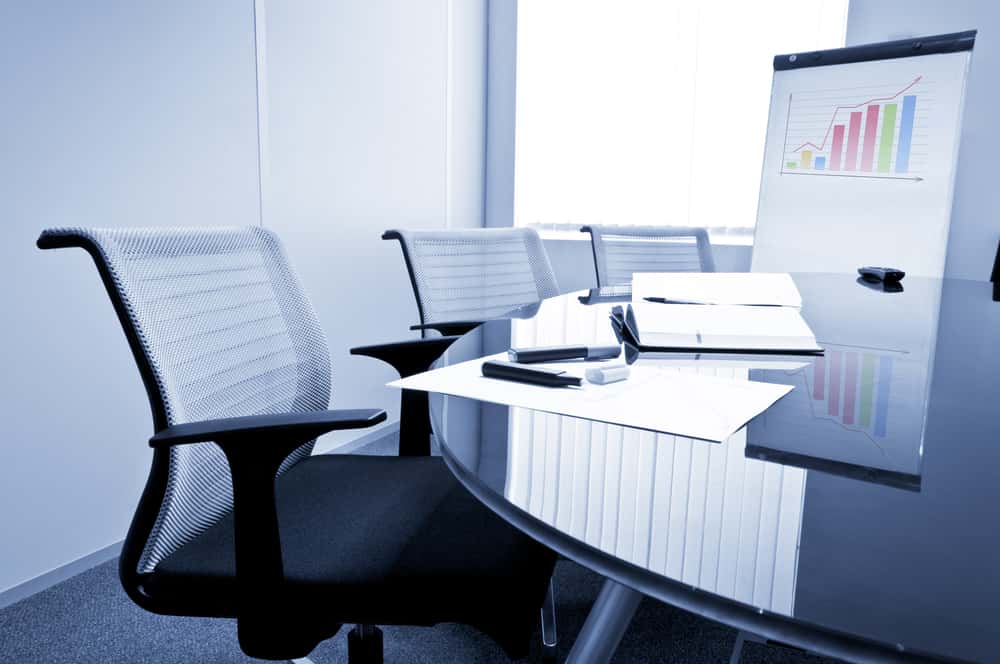 Also, for offices which are particularly dark, you might even find enlarging the windows worth considering.
5: Choose Light and Bright Colours
The colour schemes you choose for your interiors plays an understated, yet enormous role in how big a space looks and feels.
Conventional thinking dictates that using bright, bold colours would enrich a small office space. However, –in reality this might make the walls seem domineering. Stick to light, bright colours, such as white and neutral colours., Not only will this help to create a uplifting working environment, but it will also make the office feel more feel more spacious.
6: Use Bold Colours to Accentuate, Not Dominate
That said, you don't need to totally abstain from colour. Bold colours lend themselves best to smaller areas, as accents to add a splash of colour to your palette. This will prevent your office from feeling too minimalist or bland and create a point of interest.
Bold colours can also be used on smaller interior fixtures such as lighting, chairs, or artwork. You may want to incorporate your company's brand colour into your workspace as well.
7: Get Creative with Walls
It's easy to get consumed with finding a way to maximize your workspace's floor space.
But there's a whole load of vertical space that can still be used to great effect: your walls. Maximize wall space by equipping them with shelving, a projection screen, a monitor, whiteboards, or calendars. The possibilities are endless – explore them.
8: Think Outside the (Storage) Box
Large, unwieldy filing cabinets and bookcases are impractical when space is limited.
Your goal should be to find and create space where there appears to be none. Think outside the box and be creative with your storage solutions.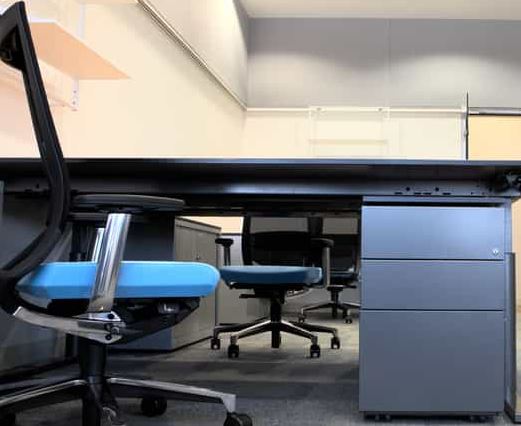 For example, insert storage cabinets under the desks, install wall caddies and buy a coffee table that doubles up as a storage chest.
9: Keep Your Technology Infrastructure Requirements in Mind
When renovating an office space, it's important to consider your technology infrastructure requirements.
Will your workstations come with different CPUs? Make sure you have an adequate number of electrical floor outlets. Not doing so can lead to an unsightly mess of cords that collect dust and trip people up – which presents a safety risk.
The solution is to bring in your IT team and solicit their input before starting your renovation project. Do your systems need an upgrade? Is your internet connection adequately managing the network load? Do you need old-school landline phones, or are you going for a softphone or VoIP solution? A long and necessary conversation is in order.
10: Add a Touch of Green
And, last but not the least, add a touch of green! Incorporating plants as part of your renovation plan may not seem a high priority, but it actually achieves a number of goals.
In addition to their visual appeal, plants can help to clean the air and curtail noise. Not only that, but they have been proven to help reduce employee depression, stress, fatigue and anxiety. As a result, they can also increase productivity and creativity, And all of this can lead to a decline in employee absenteeism. Need we say more?
Small Office Renovation Ideas – Next Steps
And there you have it; our top small office renovation ideas.
Need a hand in planning, estimating costs, or anything else related to renovating your small office space? Call us on 0401 938 190 or email us at [email protected] for a free, no-strings-attached consultation.