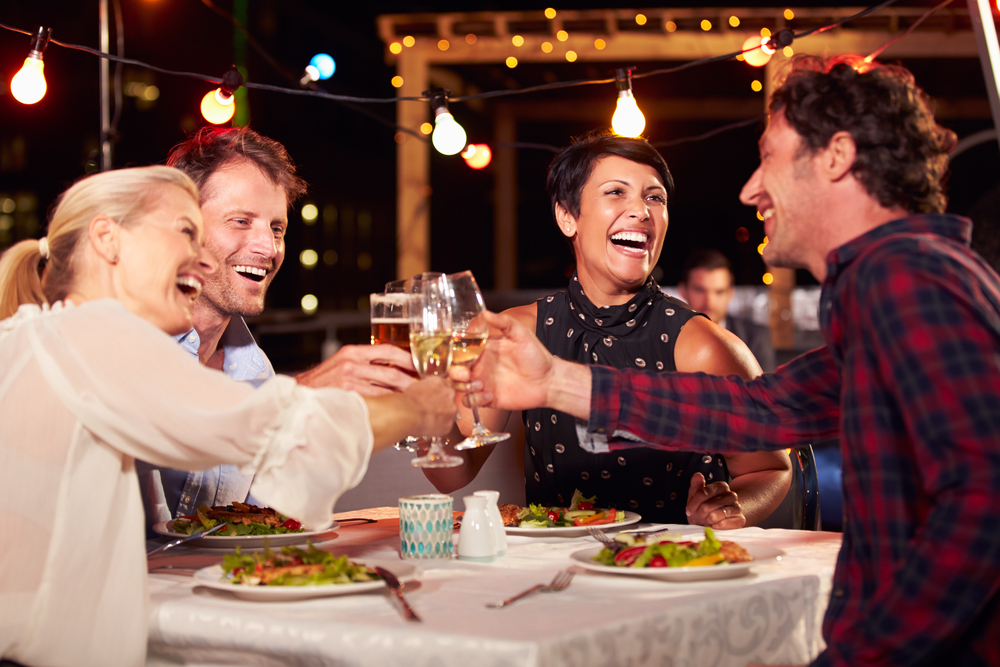 Nobody could have foreseen the challenges that 2020 and 2021 brought us, with the ongoing pandemic. As far as the restaurant and food industry are concerned, they had to go through a complete overhaul to adapt to all the recent developments.  Restaurant Interior design is no exception – and this is another big thing you can expect to change going into 2022.
Current events notwithstanding, if you decide to open a restaurant, you should be prepared for the impending struggle of competing against your peers. The number of new establishments opening and closing is growing by the day. So, making sure you stand out from the pack and capture the eye of your customers needs to be your number one priority.
In this hypothetical popularity contest, the winners are usually the establishments who not only offer great food and service, but who also went the extra mile on their fitout design.
A restaurant interior design that's well-thought-out and doesn't overlook the small details, such as the look of the menu, will always come out on top. Location and promotions are also significant factors you need to worry about, but for now, your focus should be on the design.
We took it upon ourselves to create a list for you with all the upcoming restaurant interior design trends for this year. So, when it comes to design, follow our advice and make 2022 your most successful year to date.
The Rooftop Dining Experience
Rooftop dining is a restaurant design that's here to stay. Many customers prefer to dine outside, and due to the pandemic, outdoor dining is something that's been only increasing in popularity. The weather is nothing to concern yourself with, because certain accommodations can be made depending on the situation.
For your warmer climates, make creative use of outdoor umbrellas to liven up the atmosphere while protecting diners from the sun's harmful rays. As for your colder temperatures — outdoor patio heaters, firepits and cosy blankets, will go a long way in making your rooftop a warm, comfortable environment.
Generally speaking, the rooftop views enjoyed by your guests will only serve to elevate their whole dining experience. In turn, with word-of-mouth referrals and positive online reviews, this should help to draw even more customers to your restaurant.
Providing you take the necessary steps to accommodate changes in the weather, you can serve customers on your rooftop terraceall year-round.
Open Kitchen Concept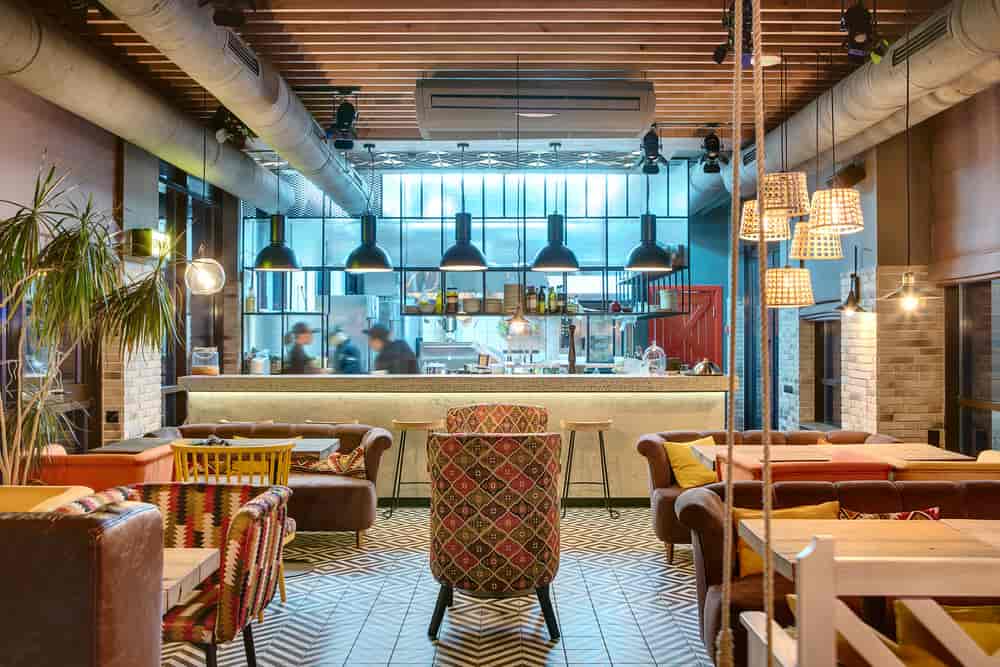 Over recent years, there's been a growing mistrust among customers about the food they are getting and precisely how it's made. Perhaps now more than ever, they need to be assured that what they are consuming will stick to the fundamental healthy standards.
As an innovative way to gain their guests' trust, restaurants have begun incorporating the open kitchen restaurant interior design. The open concept is something that's become trendy not only in the restaurant field, but also can be frequently seen in offices and medical service fields.
This interior design will not only allow your guests to see how food is getting prepared, but it will also serve as a form of entertainment. This gives customers a dining memorable experience they won't forget to soon.
Mix & Match Furniture
Making use of contrasting furniture is an interior design trend that became very popular for homes. However, restaurant owners soon realized this was a trend they could utilise as well. By adopting this concept and being clever with your use of furniture and fabrics, you can create a fabulous dining area – and provide your customers with that warm, homely vibe which has become increasingly popular.
To best accomplish this look, think carefully about the look you're trying to achieve. Is it a vibrant, rugged hotch-potch, or a more refined look? While a more refined look will require a slightly more uniform approach, mixing and matching your furniture is still absolutely doable.
And don't be afraid to go wild on your  colour choices. Bold choices can make a real statement – and look fabulous.
You can also opt for using the same colour palette across the walls, furniture and soft furnishings,  while experimenting with the furniture shapes. This would result in something unique and contemporary.
The inclusion of interesting artwork and ornamental pieces is also popular with the mix and match approach.
With this style of restaurant interior design you're showing your customers that your establishment isn't a chain, but rather a unique, interesting and homey place.
Hand-Made Elements
In 2022, we foresee designers putting a strong emphasis on both custom-made and hand-made elements for restaurants.  By following this restaurant interior design trend, you can create a highly unique, recognisable style for your establishment and acquire your individual brand identity.
The sense of belonging to a local community and locality, in general, has a significant impact on where we get our products. By associating your restaurant with your local roots, you can score big points with your customers. People tend to favour local produce and this does not stop at food.
Hand-made artisanal goods will always have a place in your home, and we don't see why you shouldn't be using them in your restaurant as well. In doing so, you will also be supporting other small businesses.
Get in contact with your local artists and craftsmen and start decorating. Murals, paintings, unusual furniture —there really are no rules to the flavours you can introduce to your restaurant.
Seating Comfort
This restaurant interior design has been gaining a lot of momentum over the last few years, and it's already taken the office world by storm. The whole idea of this "resimercial" design is to make people at home – make them feel comfortable no matter where they may be.
While the industrial look was the most popular trend by far throughout the 2010s, in the upcoming years, you can expect to see a lot more upholstery used in the form of booths, chairs, and lounge areas.
Soft pillows, cushioned seats… these are all dreamy upholstery ideas that will do wonders for your restaurants; easy on your rear, and easy on your eyes.
Green Spaces & Plants
You don't have to be an interior design expert to know the power of plants. There are many positive reasons for adding more plants to your home – and the same applies to restaurants.
In fact, did you know that plants can improve your perception of space and your happiness as well?
If you have an outdoor seating area, you can even grow your very own vegetables. These can be used as part of the decor, as there is no doubt, natural greenery is beautiful. The added bonus is that diners will be able to see where the salad they just ordered has come from. As we already discussed, local produce is a winner.
Without a doubt, this restaurant interior design trend is one that will never fade away.
Being bold and introducing some of these design trends could lead to the creation of an amazing restaurant fit-out.
Need help with a commercial fitout? At LKD, we offer a range of custom fitouts. Please don't hesitate to reach out to us for a free consultation.